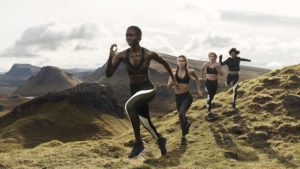 Following on from our discussion on Plastic Pollution in the garment industry, we have been researching brands who are making a conscious effort to pursue a sustainable agenda. Not only is this an important corporate responsibility, but it also capitalise on an increasing consumer sentiment supporting brands that are seen to be 'taking action' towards helping the planet. Read the very short article here.
HIGHLIGHTS:
The range focusses on activewear and is united under the theme of: "in it for the long run" which includes tights, tops,and hoodies for running and yoga. They key factor? Every piece predominantly uses recycled polyester and elastane.
Not only is the range stylish and sustainable, it also focusses on function. All products are quick-dry and seamless for maximum comfort and support.
Kudos to H&M! We support their efforts to reduce the impact of fast fashion on our planet.
Image credit: https://insideretail.hk/2018/01/04/hm-activewear-goes-sustainable/#daily